I'm getting a little overwhelmed.  And it has something to do with the nearly full tray of fudge in my fridge.
I've taken on yet ANOTHER cooking challenge.  Yes, in the midst of all others, plus the holiday madness, plus starting a new job…well sure, why not throw something else into the mix?  
I think I just like being kept on my toes 🙂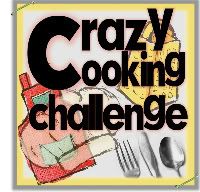 Tina from
Mom's Crazy Cooking
runs the show with this one, and I can already see how much fun it is.  When I saw a submission for last month's challenge on my friend
Jey's blog
, I immediately inquired.  She pointed me in the right direction so I could take part in the madness this time around.
Every month, a new item is chosen, and your job is to find a recipe for it (that's a little "offbeat") on another blog that you may not normally know about, or just one that isn't super popular.  No famous chefs, cooks, recipe sites, etc. are allowed to be used!  
This month's item…well, take a look:
Helllloooo, fudge.
I found this recipe on Eat Good 4 Life, a blog that I hadn't seen before.  Miryam is a fellow Jersey Girl and her blog is terrific…I'm so glad I stumbled upon it!  This fudge is VERY tasty, super rich, and yeah, a little crazy.  Eat enough of it and you may get a little tipsy.  Perfect for the holidays 🙂
So take a look around…and don't forget to vote for your favorite!
Irish Cream & Pistachio Fudge
barely adapted from Eat Good 4 Life

36 ounces white chocolate chips ( 3 bags)
1 can sweetened condensed milk
1/2 cup Irish cream liquor (such as Bailey's) plus 3-4 tablespoons
1/3 cup salted pistachios, chopped (more if you like)

Line a 9×9 pan with foil paper and lightly grease it. 

In a sauce pan, at low heat, pour in all of the ingredients except pistachios. Stir constantly until chocolate has almost melted.

Turn off heat and continue stirring until chocolate is completely melted. Add pistachios and pour evenly into prepared pan. Let cool until set. Remove fudge from pan and peel off the foil paper. Cut fudge into small squares.