It's Crazy Cooking Challenge time again!  This month, the "topic" was well suited for this time of year – chicken soup.  Perfect!
I had a bunch of ideas floating around my head, until this came along…
Yum.  Seriously…YUM.
This soup has many great qualities.
1- it's very easy to make
2- it uses mainly pantry items
3- it's guaranteed to cure all ailments (not that we were sick when we had it…but I know from my Cuban sis-in-law that most things Cuban will)
4- it's cheap to make
5- it's DELICIOUS!
Wish I made some more…
I took these pictures right after the soup finished cooking.  By the next day, when I heating some up for lunch (mmmm), it had thickened up a bit.  It was even better that way!  Just a warning – the more pasta you add, the thicker it will get – so keep that in mind when cooking.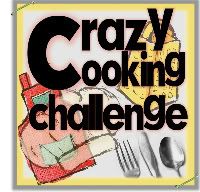 Another fun challenge in the books!  Check out all of the other crazy contributions below…
Cuban Chicken Soup (Sopa de Pollo)
slightly adapted from Best Cuban Recipes

6 chicken thighs, bone in, skinned
6 cups water
1 medium onion, chopped
1 tablespoon tomato paste
3 garlic cloves, minced
1/4 teaspoon oregano
2 potatoes, peeled and quartered 
1 carrot, peeled and chopped
fine noodles (I used thin spaghetti…about 1 cup, broken in half)
1/4 teaspoon saffron
1/2 cup lemon juice (close to 2 lemons, depending on size)
salt and pepper

Salt chicken lightly.  Add water, chicken, tomato paste, onion, garlic and oregano to large pot.  Bring to boil, then reduce to low, cover and simmer for 30 minutes.

Add potatoes and carrots.  Cover and simmer another 30 minutes, or until potatoes are tender.  Add noodles, saffron, lemon juice salt and pepper and cook until pasta is tender.

Serves 6-8.