It was my turn to host our monthly What's Baking? group challenge, and I figured January was the perfect month to choose a theme involving snow.  Normally, by this time of year, our area has already seen plenty of it.  This season, however, has been pretty "balmy", with only two snowstorms thus far – the bigger one happening right before Halloween!  Still, baking your favorite snowday treat is always fun – white fluffy stuff or not.
Jen from Beantown Baker baked these Hot Chocolate Cookies…a clever way to get a popular snowday beverage into the oven…
And apparently, Jey from The Jey of Cooking had the same idea with her version!
Jill from JBean Cuisine submitted a fun twist on a usual favorite with these Butternut Squash Cinnamon Buns:
Lindsay from Peace, Love and French Fries showed her spirit and baked these Creamsicle Cookies, even though it was 50 degrees (in Denver!) that day:
Hezzi D's Books and Cooks author Heather chose a chocolaty treat – how delicious does this Chocolate Covered Brownie Bottom Cheesecake look?
Ange from The Tiny Tyrant's Kitchen made a treat that was a big hit with our family this Christmas – Mint Chocolate Chip Cookies:
More of that oh-so-popular hot chocolate made an appearance, in Our Share of the Harvest's Lindsey's Hot Chocolate Cupcakes:
Yudith from Blissfully Delicious made some beautiful looking Madeleines:
Ammie from Adventures in my Kitchen served up a jolt with Chocolate Cappuccino Chip Cookies:
The Boys Made Me Do It's Cara made this yummy looking Orange Sticky Bun, which brought back some memories for her:
Catherine from Pursuing Domestic Goddess-ness actually DID have snow when she baked these Oatmeal Maple Scones: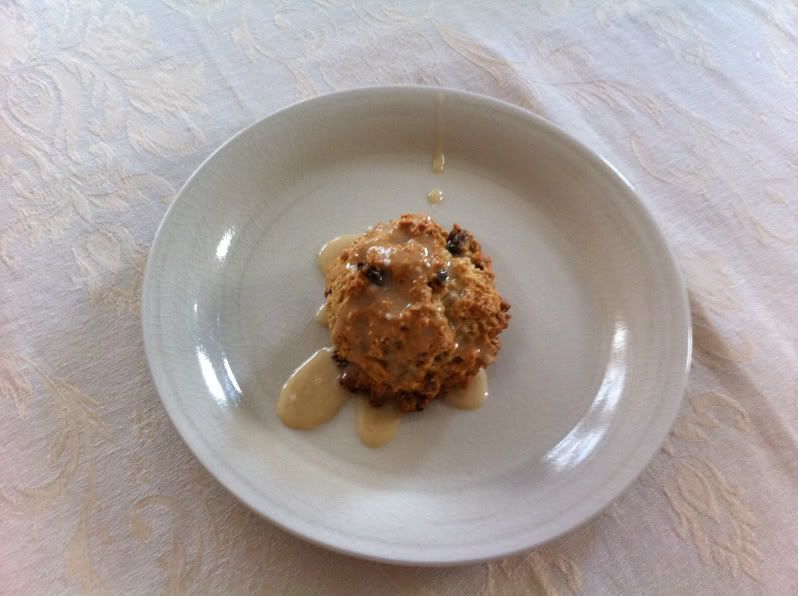 Jaida from Sweet Beginnings made my mouth water with this Chocolate Lava Cake:
Stephanie from Brownies and Blondies had the same thought process as I did when it comes to baking on a snow day, and used what she had on hand for these Kitchen Sink Cookies…
…just like Bella and I did when we made our Monster Cookies (see below for recipe).  Who wants to drive in the snow, anyway?                
Carrie's Sweet Life became even sweeter with these Brown Sugar Cookies:
Amanda from Our Italian Kitchen was the only one who chose to bake a pie – this Salted Caramel Pie – which looks super comforting!
And finally, Sandra, who will host next month's What's Baking? challenge on her blog, She Cooks and Bakes, made this delicious candy treat – Twix Bars.
Thanks for your participation, ladies!  Can't wait to see what's in store for February, when the theme will be  "baking something sweet for your sweets"!
Monster Cookies
from Sweet Anna's
1/2 cup (1 stick) softened butter
1 1/4 cups creamy peanut butter
1 1/4 cup firmly packed brown sugar
1 cup white sugar
3 large eggs
1 teaspoon vanilla extract
2 teaspoons baking soda
4 1/2 cups old fashioned rolled oats
1/2 cup packed sweetened flaked coconut
1/2 cup chocolate chips
1 cup m&ms, divided
Preheat oven to 325 degrees.  Cream together the butter, peanut butter and sugars.  Mix in eggs, vanilla and baking soda until smooth.  Mix in oats, and then the rest of the ingredients until combined, except for 1/2 cup of the m&ms. 
Drop by rounded tablespoons onto a parchment lined baking sheet.  Flatten slightly with a fork dipped in cold water.  Press a few reserved m&ms into the top of the cookies that have none showing.
Bake for 10-12 minutes, until just set and barely golden brown around the edges.  Do NOT overcook!
Makes approximately 50 cookies.